Rugby Star Joins A New Pack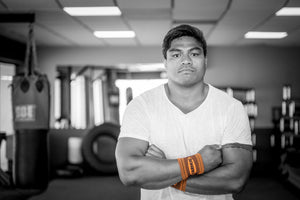 Bearhug announced the exciting news that popular Cardiff Blues back row, Nick Williams, has joined the board.
Bearhug uniquely use bamboo in the make-up of their supports, this difference in composition can increase blood flow and dramatically reduce rehabilitation and recovery periods, whilst enhancing performance.
36-year-old, New Zealand born Nick has long been a great supporter of the company and actively uses the supports during his time at the Cardiff Blues as part of his recovery to keep him performing at the elite level. He has now decided to take this partnership further by officially agreeing to join the company's board.
Chief Brand Builder at Bearhug, Alexander Davies, said:
"Joining forces with Nick was an easy choice for us. First and foremost, Nick uses the products and is always excited to feedback the positive results he's experienced. More than that, Nick typifies our consumer, a 30+ male who uses Bearhug to continue enjoying his passion. We're really excited to have Nick join the board and look forward to the value he can add to our team."
The former Munster, Ulster, Aironi and Junior All Black credits Bearhug with playing a part in prolonging his career and is looking forward to helping other people feel the benefit of wearing Bearhug supports.
Nick said:
"Becoming part of the Bearhug pack was a no brainer for me. It's a product I love and feel has been a big part in keeping me playing as often as I am. It's not just the product though, the values Bearhug possess are a great fit for me. My first official activity in the new role, hasn't been business or sales focused, I've been down to a local rugby club to help the junior and senior teams at training, sharing my knowledge with the grass roots of the game. It's brilliant that the brand focus is on supporting people enjoy their passion in whatever form. I'm now really excited to help Bearhug achieve our aggressive growth plans."
Since his move from Ulster in 2016, the New Zealand-born back rower has become a firm favourite at the Blues and in Wales as a whole through his commitment to the club. This commitment will be replicated for Bearhugs ambitious plans to dominate their sector.