Big Nick Hangs Up His Boots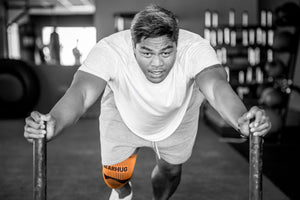 Nick Williams has paid a special tribute to the Cardiff Blues family as he closes the book on an illustrious career.
The talismanic number eight, who established himself as one of the most destructive Guinness PRO14 players of his generation, announced his retirement earlier today following a 16-year career which took him to Blues, Munster, Aironi, Ulster and, finally, Cardiff Blues.
The bruising Kiwi, who won caps for Junior All Blacks, became a hit with supporters wherever he went, and while he was one of the most feared rugby players on the pitch, Williams certainly had a reputation as a gentle giant off the field.
However, with the Covid-19 outbreak putting rugby on hold, Williams will not be able to share a final swansong with the Arms Park faithful. While he is naturally disappointed, Auckland-born Williams typically chooses to treasure the memories he did enjoy at the Welsh capital.
Williams said: "As much as I would've liked to have that final walk over the line, and say 'thank you' to the fans, we just have to crack on with it. It is what it is.
"I just have to remember about the times that we did have rather than the one time that I didn't have. So if I look at it in that way, then I'm pretty cool with it.
"I'd like to thank the fans for all the years and all the support, whether that would be negative or positive. It's always driven me to become a better player."
I want to give a special thanks to all my Cardiff Blues fans, for the way they accepted me with open arms - especially after what happened with me and Patch! So thank you very much and I will be keen to get down to Cardiff Arms Park and have a pint with a few of you."
With his playing career coming to an end, Williams and his family - wife Gemma and daughters Liana, Mila and Cleo - will continue to call south Wales their home, as they settle in Barry and begin life after rugby. And the 36-year-old says that Wales - and its people - has a special place in his family's hearts.
He continued: "'Barrybados' is a special place for us. My children absolutely love it here, as does my wife and I. The people here are absolutely brilliant. It's a great place to bring up a family, and it's very similar to New Zealand.
"With Covid, everything has been put on hold for a bit. I've got a few things lined up and I'll wait for them to eventuate, and hopefully go from there.
"From now on, it's about spending as much time with the family as I can and really savouring the moments that I haven't had in the past because I've been travelling with rugby. 
"I want to allow my wife to pursue what she wants to do with her platter company and try to live a normal life."
Indeed, family has always played a crucial role in defining Nick Williams as a person - we all remember the look on Nick's face when his mother, Aolele, surprised him with a Christmas visit earlier this season.
The number eight was also a driving force behind the effort to establish a family culture throughout the Cardiff Blues squad and organisation.
And while he admits that he will miss his rugby family, his decision to hang up his boots came as a result of wanting to make the most of life as a father.
He added: "It's probably more that the body made the decision. It was a long old haul, and considering the way I play it's taken its toll.
"Boys my age, who are coming towards their retirement, have families now, and a prime example of that is someone like Warby (Sam Warburton). There's more important things at the end of the tunnel than rugby.
"I've had a good run, and I've enjoyed every moment of it but now I'm looking forward to the next chapter.
"My heart was always keen to play, and the brain always wants to keep going, but there were mornings when I wake up and I struggle to play with my kids.
"Those are moments where you start to think really seriously about it. My wife has given me the opportunity to pursue my career for this long, but it's decisions like that where I need to give her the chance to pursue whatever she wants to do.
"A part of it is my upbringing. The Polynesian side of me, I've always been big on family, and I think it's very similar here in Wales.
"At the Blues, I felt that we'd gone away from that a little bit so I put my hand up to try and bring a bit of culture about the place. 
"We have to remember about the scenes around the place, that people don't see, when it's just the boys together. The end product is what people do see on the field, but we have to build that culture behind the closed doors and hope that will come to show on the weekends.
"I knew deep down that it would be my last couple of years, and I knew when I signed here at Cardiff Blues that it would be my last contract.
"I just tried to enjoy every single moment of it, because there will be things that I miss like running off the pitch, people cheering every yard, and the kids and fans. Those are the moments.
"Also in the changing room, where you have some crack with the boys. Those are the parts that you will miss.
"The parts that you won't miss are the running in pre-season and hurting the next morning, but it's been a hell of a ride, and one that I will always be thankful and grateful to all the teams that I've been a part of."
One of the stand-out memories from Williams' time at the Welsh capital, of course, was the 2018 Challenge Cup victory, where he formed one of the competition's stand-out back rows, alongside the likes of Josh Navidi, Ellis Jenkins and Olly Robinson. 
And the final weekend in Bilbao will live long in the memory for Williams.
"It was all special. From the quarter final and semi final, to the week leading up to Bilbao, where Cardiff Blues decided to take all of the families over. Special things like that are what people don't see behind the scenes," said the number eight.
"I've always been big on family. I was blessed to have my wife and my youngest daughter coming out to see the match, and it was her birthday on the day that we won it so small things like that are extra special.
"Seeing everyone's parents or family there is something I will always saviour, and probably something that no other team will be able to copy because that will always be our moment.
"That will be one for the memory books."
Cardiff Blues News