Bearhug partner with Rhino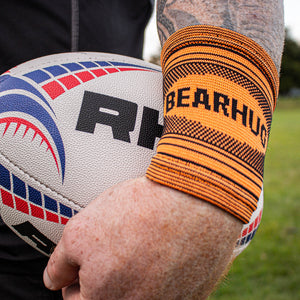 Compression specialist Bearhug has formed a strategic partnership with one of the world's leading rugby and team sports brands as it looks to ramp up its growth plans.
The Llantarnam-based business, which is favoured by professional rugby players including Josh Navidi, has joined forces with Rhino to help market its products.
After a record year of growth in 2020, Bearhug has partnered with Rhino to help raise its profile amongst professional, amateur and community clubs across the UK, as it looks to exceed £1 million revenue in 2021.
Bearhug was established in 2016 when co-founder Gareth was battling with a long-standing ankle injury that was threatening to put an end to his competitive rugby playing days. After coming across the unique qualities of bamboo, which is scientifically proven to increase blood flow and dramatically reduce rehabilitation and recovery periods, Bearhug was born. 
Uniquely produced using bamboo, Bearhug's range of joint support and muscle sleeves have become increasingly popular with both elite and everyday athletes due to their performance enhancing qualities.
Since 1980, Rhino has gone from being a small manufacturer of scrummaging machines into one of the world's leading brands for technical training equipment, teamwear and leisurewear. It is the official supplier of England Rugby, The Welsh Rugby Union, Bath, London Wasps, Cardiff Blues, St Helens Rugby League and The British & Irish Lions.
This is the latest announcement from Bearhug, who appointed former Cardiff Blues number 8 Nick Williams as non-executive director last year.
Co-founder of Bearhug, Rhys George, said: 
"With our roots in rugby, we have long admired the Rhino brand, so we're delighted to form this strategic relationship. Rhino not only has a strong rugby heritage, but is one of the world's leading team sport brands, something which will benefit our business massively. We're confident that the teams and customer base that they work with will quickly realise the benefits of our performance-enhancing products and we're looking forward to seeing how the relationship develops."
Rhino's managing director, Dave Reynish, said of the partnership:
"We pride ourselves on being a one-stop shop for every rugby requirement, from equipment and balls to clothing and pitch kits, and this partnership with Bearhug brings an innovative and exciting range of support products into the rhino.direct fold. We think the Bearhug offering brings something unique to the market, and we're very much looking forward to working together."