ASK THE PACK | @thetrailrunneruk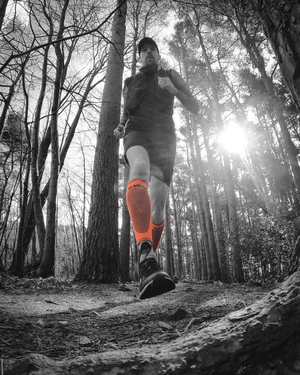 We chatted with ultra-runner and trail photographer Luke about his running career. Kick started by a serious illness to a loved one to running a 100km race for the first time, he covers his journey from events to injuries and everything in between. 
When did your passion for running start?
In 2016 my wife was diagnosed with cervical cancer, thankfully she did beat the disease and has been cancer free for many years, but the treatment has left long term damage to her health and day to day life. Seeing her go through many years of hospital visits and treatment it made me think about my health. I decided I wanted to be healthier and to start exercising more, I wanted to be able to look after her when she needs it most. I started running a few years later in 2010, running was always something I enjoyed when I was younger but I did have to start from scratch. 
What do you love about running? 
My love for running changed when I discovered trail running. At first it was more about the fitness element but now I enjoy being out on the trails exploring new routes. Disappearing from the busy world, into the peaceful silence of the countryside. It's just me and the path in front of me. Connecting with nature and enjoying the great outdoors. 
What is your favourite run locally?
A loop around my local woods which is just up the road from me. It's so photographic during Spring/Summertime with winding paths and steep climbs to tackle. I am also lucky to live close to the trail along the Itchen River. It starts from Southampton and finishes near Alresford, totalling 31 miles.   
"

Listening to your body is important even if your head is saying something different 

"
What is your favourite run further afield?
South Downs National Park - My favourite route is starting at Butser Hill heading towards Old Winchester Hill and then onto Beacon Hill. A good 20 mile + loop with plenty of elevation and picturesque views. It's where I discovered my first Ultra (Race to the King) while out on a training run.  
What is your best time on your favourite run?
Race to the King 2019 - 53.5 miles in 8hr 57 mins along the South Downs Way. I first ran this race in 2017 and it was my first experience in the Ultra Running world. I finished in 12hrs 37mins and have been hooked ever since. 
What is the longest run you have completed?
Race to the Stones 2018 - 100km along The Ridgeway National Trail. It was 26 degrees on a summers day with not a lot of tree cover for shade but I finished in 12 hrs. It was a long day! 
Where would you love to run that you haven't yet been?
The Lake District - Living in the South of England does have its advantages, there are some stunning places to run but there are no mountains nearby. There are times when the mountains are just calling me, I miss that feeling of reaching the summit and being rewarded with those amazing views. 
Have you ever had any injury 
set backs
?
I've been quite lucky with injuries and usually only get issues after Ultra distances. Most are usually muscle related and can be sorted out with some deep tissue massages. I do tend to get some flare ups in my knee on occasion which I usually put down to overtraining. Listening to your body is important even if your head is saying something different.   
Are you signed up to take part in any running challenges/events over the next year and what's your goal?
Unfortunately, a lot of races have been either cancelled or postponed but I have entered the Wings for Life World Run on May 9th. This is a unique event where you run as far as you can until the Catcher Car passes you. My future goals are to complete my first 100 miler and to run it in under 24hrs. Return to Race to the Stones as I feel I have a good chance of setting a new personal best, and finally to improve my 10km and Half Marathon times.