ASK THE PACK | Gareth Anscombe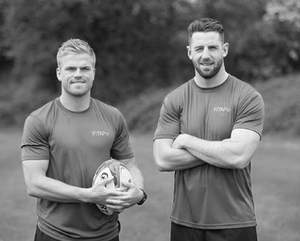 With injury setbacks, a new business venture, and the arrival of his first baby, Gareth Anscombe has had a whirlwind year.
We recently caught up with the New Zealand-born Welsh International Rugby player to talk about how he has been taking care of his mental and physical wellbeing off the field, as well as his aspirations for his new business Fitap.
How have you been doing since your initial injury?
I've been doing pretty good recently. Obviously, I've had a few setbacks along the way which has been fairly frustrating, but lately it's been going pretty well. The knee is making slow progress and it's starting to feel pretty strong.
Things like Fitap have been great to divert some of my attention and change my focus a little which has been really nice, that and having a baby! I suppose with having the new addition it's just given me a new focus really and taken my mind off worrying about my knee. I'm making good progress though and I'm thankful I've got other things going on in my life to keep me busy as well.
What have you been doing to keep yourself mentally and physically fit during your recovery?
Over the last 2 months I've been able to really pick up my training which has been a huge help in getting me moving. I was struggling a little it when I wasn't able to train, you tend to feel a little bit sorry for yourself at times, especially when you're just watching rugby games.
Lately as well with having our baby, Teifi, she's well and truly kept me busy! So, from a mental and physical point of view I'm feeling really good. I guess having a little family now just gives you a different perspective on life, you start thinking about things a little bit differently. Teifi has been a breath of fresh air for me and being able to just play with her has been a lot of fun, I'm really enjoying being a new dad.
Gareth Anscombe | Welsh Rugby Union
What's your best bit of advice for others dealing with injury or unable to take part in the sport they love?
I think it's important to talk to people. I've been lucky in my personal experience, I've had some close mates dealing with pretty similar injuries and we've been rehabbing together at times, which from a personal point of view, and maybe a bit of a selfish point of view, it has been quite nice. I think if I'd had to do this journey by myself, I don't know what sort of state I would be in.  
I've been really lucky to be able to surround myself with a good support network, I've been able to chat to not only my mates that are also going through it but also the physios and obviously my wife and my family. At times you will have frustrating moments, I certainly get frustrated at times, but once you get over the disappointment of injury it is important to just set little goals and don't just sit around feeling sorry for yourself. You've got to accept what's happening and keep pushing on and set yourself different targets.
I've been able to use this time to focus on some things outside of the rugby field which in the past I haven't been able to do. But I think my biggest piece of advice is just to surround yourself with good people and they can help to get you back up on to your feet.
You've recently launched Fitap, how has it been going?
Fitap has been going really well, we've been excited to launch it! We've had a few set backs with the virus which has effected a lot of businesses and it's posed some major challenges for us, but I'm pretty proud of the group for being able to adapt and over come the setbacks we've been faced with.
We're keeping pushing forward, the recent lockdown announcement has posed another obstacle, but I think so far it's been pretty positive. We've had new clients join the app and it's gone from strength to strength. We continue to keep building on it every week, we've got some good people working for us and they've been amazing. So, it's been a really positive experience so far and I'm really enjoying stepping into the business world.
Gareth Anscombe & Alex Cuthbert | FITAP Co - Founders
Why did you decide you wanted to launch Fitap?
I think originally when myself and my partners, Alex Cuthbert and Dean Jones, were sitting down having a coffee one day we spoke about a few things that were going on and the direction that we potentially saw the fitness market going in. Obviously with mine and Cuthy's background playing rugby at a high level you have to be fit and we care about our physical and mental wellbeing, and so together with Dean we thought about how we could help to influence the fitness market. 
At the time there wasn't really anything to help people be aware of what's going on around them in their local areas and we just thought we would give it a go. Since then we've been able to develop the business and what the app can do and now we've got new clients, different activities and I think we're pretty focussed on trying to make a positive difference to Welsh businesses and trying to help them.
Clearly the virus has made getting new clients a pretty tough task, and with Fitap we've been able to help businesses attract these new clients. This period is proving tricky for everyone but I think if we can make it through this then Fitap could definitely make a dent in the fitness market and can be a huge help to members and people wanting to start their fitness journey.
Why did you want Fitap to partner with Bearhug?
When you think of your business and particularly starting up a new business, you also want to help other Welsh businesses grow. We want to play a role in helping the Welsh fitness market grow and helping people take care of their physical and mental wellbeing.  
With Bearhug there's a few connections with being a young Welsh business, much like ourselves, and they've also partnered with me before with a different Rugby team. Speaking to the guys there, they are good people who are ambitious, and we see ourselves as very similar with our goals. So that's why we've aligned ourselves with Bearhug to help promote what they can do, and they've been a great support for us as well.
What are your aspirations for your rugby career?
I haven't set too many goals just yet, I'm trying to not look too far ahead and just enjoy the moment now, when I can get back on my two feet and run again I'll set myself some goals. Right now, it's just about getting myself strong and once I've got that ticked off it'll be on to the next target. Hopefully in the new year I'll be able to start looking at playing some rugby again and that's when I can get really excited about what the future holds.  
What are your aspirations for Fitap?
There's a lot! I'd like us to play a real leading role in the Welsh fitness market. I think we can be a huge help to people who want to take care of their physical wellbeing.
I'd love for us to be a company that people can come to get the best deals, to look after their budgets and to look after their time because in today's world everyone is fighting for each other's time essentially.
So, if we can make peoples fitness journeys as easy as possible and help to support other Welsh businesses then I'll be really proud of Fitap. We're not there yet, but we're growing stronger and stronger each day and if we can get through this tricky period then I think we can achieve our goals. 
Find more here: FITAP