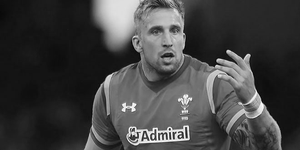 With a rugby career that has taken him all over the world, Dom Day is no stranger to injury setbacks and knows the importance of taking care of both your physical and mental health.
We recently caught up with the former Welsh Rugby Union player to talk about his business venture FourFiveCBD, how CBD helped him with his own injury recovery, and what life has been like since hanging up his boots.
Want to try FourFiveCBD products? Enter our competition here.
Rugby was a huge part of your life for a long time, why did you decide it was time to hang up your boots?
I had just signed a 2-year deal in San Diego, but unfortunately injuries got the better of me and being able to train and play was becoming a constant battle. So, I made the decision to cancel my upcoming contract and focus on my business interests.
Rugby is such a physical sport; do you still feel the effects of playing?
Yes, every day. Simple things like walking downstairs can be painful on my knees and picking up my daughter can be a struggle because I have bulging discs in my back. I accept it as being part of the game and something I need to do my best to manage now.
How did you make sure you took care of yourself both physically and mentally during your career and in your retirement?
I was always as professional as I could be when it came to training and nutrition which is hugely important. Mentally I never struggled during my career, but it is something I want to be proactive about now I have retired as the statistics for ex athletes and mental health are not good. Although I miss the lads terribly, being able to dive into business and keep my mind busy has been important. 
Dom Day, Welsh Rugby Union 2015. 
Who did you turn to for support during and after your career?
My dad was always someone I would lean on for advice in the early days. Towards the end when I met my wife she was always so supportive of all my decisions and gave up a lot for me to be able to travel the world and play rugby and she is still someone that supports me now through my business life.
What was your favourite part of playing rugby?
Definitely being around my mates every day and being able to travel the world and see some amazing places.
What has been your favourite part of retirement?
I have been able to spend more time with my family which has been great. Not having to be in the gym at 8am every day is also a bonus. 
Why did you decide to set up FourFiveCBD?
As I got towards the end of my career, I started to pick up injuries more often. After my second knee operation I used CBD to aid with my recovery and it was quite amazing, it cut my recovery time by around a month and allowed me to get back playing ahead of schedule.
George Kruis and I knew that there were a lot of athletes using CBD products that were not safe, so we developed a range of top spec products which are tested to the highest standard.
Want to try FourFiveCBD products? Enter our competition here.
Dom Day, FourFiveCBD Co-Founder.
Can you explain the benefits of using CBD for sportspeople especially?
Athletes mainly use our products for recovery purposes, the first thing every athlete notices is how it benefits their sleep.
What advice would you give to someone who wants to start using CBD products?
Make sure you ask the company if you can see their third-party testing certificates. If they back their products, then they will get them tested by external labs.
What are your aspirations for FourFiveCBD in the future?
We want to be seen as a wellness company. We have recently released a range of vitamins that have been developed to be the most effective on the market. We were shocked when we saw what a lot of vitamins contained and how ineffective they were. It is a range we are really excited about.
Want to try FourFiveCBD products? Enter our competition here.