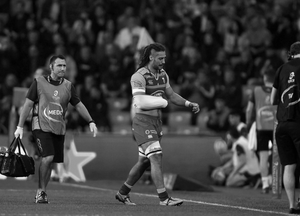 It can sometimes be difficult to know how best to approach recovery when you are dealing with injury. There is a wealth of information out there, but it can sometimes become a little overwhelming and even confusing.
So, to help give you the best advice we have enlisted the professional opinion of Dan Jones, Head of Medical Services for Cardiff Blues Rugby and Managing Director of Health & Sports Physiotherapy and Pro Sports Medicine Ltd. He is a Chartered Physiotherapist who has extensive experience in elite rugby having been Head Physiotherapist for Wales 7s and worked with Premiership teams Worcester Warriors and Gloucester Rugby.
What does your job with Cardiff Blues involve?
My job is both clinical and managerial at Cardiff Blues. I lead the medical department, which has three physiotherapists, three doctors, a sports therapist and several interns. We aim to deliver the best possible, evidence-based care to the senior and academy squads.
As part of my role I attend the weekly fixtures and training sessions, as well as daily clinic assessments, treatment, and rehabilitation. Outside of rugby I am Managing director of Health & Sports Physiotherapy and Pro Sports Medicine Ltd - a Sports Injury clinic that I established in 2008.
What is the most exciting part of your job?
The most rewarding part of the job is working with younger athletes and supporting their development by encouraging professional behaviours and habits, playing a small part in their career progression.
You can't beat the excitement and buzz of game day of course! Working at a packed stadium is always a highlight, which we are all missing at present due to the COVID-19 restrictions.
What is the most important part of your job?
To reduce injury risk, by implementing  injury reduction strategies. As a medical department we work closely with the Strength & Conditioning team and coaches to identify individual players needs to reduce the risks of common rugby injuries. It is practically impossible to completely reduce injury risk, but by implanting injury reduction strategies we are therefore helping players to stay fit for longer - which we know has a positive effect on results.
In addition, I've been leading our COVID return to training and play protocol at the Cardiff Blues. This has been immensely challenging, but also rewarding working alongside colleagues at the WRU and senior management at Cardiff Blues to facilitate the players' safe return to work.
What injuries do you see most frequently?
Concussion has become the most prominent injury in rugby - largely due to increased awareness and identification of the injury. World rugby have done great work over the years and there is now very clear protocol for concussion management. Other injuries commonly seen in Rugby include ankle, knee and shoulder injuries.  
What is the highlight of your physiotherapy career to date?
Within sport two occasions come to mind. Making the Hong Kong 7s final with Wales 7s was an awesome experience and we came so close to winning! The other highlight has to be winning the European Challenge Cup in Bilbao against my old club Gloucester with Cardiff Blues in 2018!
What advice do you give players to help them remain injury free?
A term that has become very popular within rugby is to make sure you take care of the "Big Rocks" i.e doing the basics well.
First and foremost, try to ensure that you get adequate sleep, ideally over 8 hours a night. Good nutrition is essential for recovery by maintaining a balanced diet with no alcohol or limited alcohol. You should also avoid over-training by allowing time for recovery. This is best achieved by following a structured training programme, with load, volume intensity and recovery tailored to your personal goals.
Do the basics well, repeatedly, and consistently.
What about post-match recovery?
In terms of nutrition I advise a High protein and carbohydrate snack and or drink. In terms of activity we advise players do a low-level activity such as steady tempo bike followed by passive recovery modalities such as ice baths and or compression garments such as Bearhug's joint supports and muscle sleeves.
In addition, during the 24-48 hours post-match we encourage players to perform a low-level active recovery such as swimming or cycling as well as soft-tissue massage and mobility exercises such as yoga.
Take home message?
Do the basics well, repeatedly, and consistently. To reduce the risk of injury and improve performance it's important to eat well, sleep well and follow a consistent training programme with adequate recovery time. Avoid things such as supplement fads and stick to the basics of good sleep and optimal nutrition. 
Why would you recommend compression products such as Bearhug's supports and sleeves to aid with recovery?
Bearhug's joint support and muscle sleeves are a great aid in the recovery process. They are uniquely produced using bamboo charcoal which has been scientifically proven to increase blood flow and dramatically reduce rehabilitation and recovery periods, whilst enhancing performance.