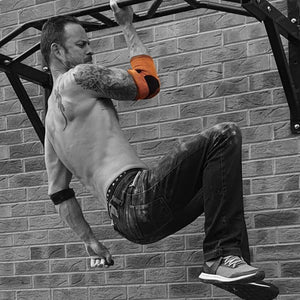 Hi Bearhug Community, I'd like to introduce myself and also thank Bearhug for their support... and their supports!

I'm Richard Slocock, a visually impaired climber, member of the GB Paraclimbing squad and World Number 3.

My story starts in 2013, when I noticed a small spec in the vision of my left eye. Before this time my vision had been perfect, but from this point this would not be the case...

I was referred to Derby Royal by the opticians, but after numerous test they were baffled, and referred me to Nottingham QMC. Again, many tests were run, and "some sort of macular degeneration" was diagnosed. By 2014, my left eye had deteriorated significantly, and my right was also showing signs of deterioration.

In 2015 I was referred to Moorfields in London, and they initially registered me as partially sighted. By Feb 2016 I was registered as Severely Sight Impaired, or Blind in old money.

The journey to where I am now has been long and hard. I struggled, as you might expect to come to terms with things and had a breakdown of sorts, suffered from severe anxiety and panic attacks, and was in a very dark place.

The turning point for me was getting help, help in the form of counselling. This turned my life around, and helped me come to terms with my sight loss, not accept it, but come to terms with it.

Over the years I began to develop coping strategies and learn to deal with the loss of my sight, driving licence and for want of a better word, my independence.

One thing I could still do, despite my sight loss, was climb, although I needed more help from my mates to find the holds.

In 2017 I met my wife, we met online, she was looking for a climbing buddy, and having climbed since 2005, and being pretty good, I applied for the role, and the rest is history.

She suggested that I compete in the GB paraclimbing series, so I did..

The comp was great, and I met a lot of fantastic individuals that I can now call friends, that and I also came second in the series overall

I was asked to compete at the GB selection event in early 2018, where I climbed my arse off, and was selected for the GB Paraclimbing team.
2018 was my first year competing internationally, and at my first World Cup I came 4th, and 7th at the World championships , which was a huge disappointment.

So I trained harder! Working at Rolls-Royce all day then training every night, and even more at weekends.

The training paid off, and in 2019 I took Gold at the World Masters and Bronze at the World Championships! It was even sweeter as the guys that beat me were almost half my age.

The training continues everyday, fighting injuries, and keeping myself in good shape. I'm not getting any younger, and I'm now in my 40th year and training isn't getting any easier, but that drives me harder!

So here I am, in lockdown. Luckily, I have a home gym, and enough training equipment around the house to keep me in good condition, but not climbing is hard, and I can't wait to get back to it.

If I can leave you with anything it's this...

Your circumstances don't define you, whether it's disability, age, weight etc, it's how you deal with things that define you.